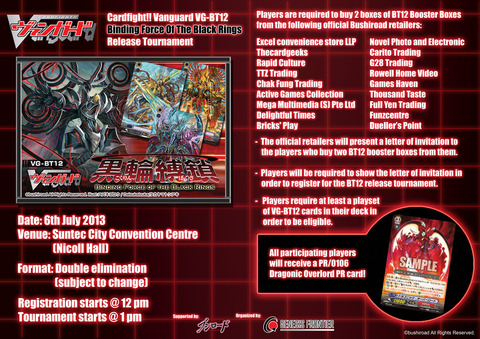 Buy 2 Booster boxes of BT12 from our shop, Dueller's Point, and receive a letter of invitation to the VG-BT12 Binding Force of the Black Rings Release Tournament!!
Cardfight!! Vanguard
VG-BT12 Release Tournament
Date: 6th of July 2013
Venue: Suntec city (Nicoll hall)
Registration: 12 pm
Tournament: 1pm
Players are required to show the letter of invitation in order to register for the tournament.
Players are required to have at least a playset of BT12 cards in their deck.
And all participanting players will recieve a PR/0106 Dragonic Overlord !!!!
So hurry down to our shop when VG-BT12 is available and grab your letter of invitation!! Limited stocks only!!